Oct 31
Amanda EnockssonFujitsu
No Comments
Hallå där!
Nu har det snart gått 2 månader sedan jag började på Fujitsu och jag vet inte var tiden har tagit vägen. Förra veckan var fullspäckad så här kommer en liten recap om vad jag sysslade med.
På tisdagen satte jag mig på tåget till Göteborg för att vara med på Fujitsu Day. I år var temat "Effektivisering och affärsutveckling – Skapa maximal nytta med digital co-creation" och det inkluderade flertalet seminarier och föreläsningar. Mässan besöktes av Fujitsuanställda från flera olika kontor samt av våra kunder som fick möjlighet att höra om och diskutera våra tjänster samt klämma på lite av den hårdvara vi erbjuder. De seminarier som jag tog del av handlade om hur robotar påverkar kvalitet och kostnader, hur vi kan omvandla medarbetares kompetens och kreativitet till kundnytta samt hur vi kan dra fram kreativiteten i oss själva med hjälp av olika verktyg. Dagen avslutades med en inspirationsföreläsning av Renata Chlumska, den professionella äventyraren som bland annat var första svenska kvinnan att bestiga Mount Everest, vilken var helt fantastisk – vilken inspirerande kvinna!
Direkt när Fujitsu Day var över begav jag mig till flygplatsen för att åka till München. Det var dags för vår andra modul i traineeprogrammet där vi skulle få lära oss om Sense and Respond. Om ni har hört om Lean förut så kan man säga att Sense and Respond är Fujitsus version av det där vi applicerar teorin mer praktiskt på vår egen organisation. På workshopen deltog graduates från Sverige, Finland och Tyskland. Det är alltid kul att träffa graduates från de andra länderna och höra om vad de får göra för spännande om dagarna! Vi lärde oss mycket under dagen och framför allt tar jag med mig nya verktyg för att lösa problem tillsammans som ett team. Vi fick i uppgift att lösa några problem hemma på kontoret i Kista så vi får se vad vi hittar för problem de kommande veckorna!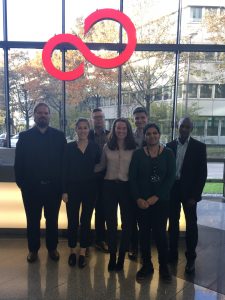 Graduates från Sverige och Finland på plats i München
Nästa vecka bär det av till München igen, denna gång för Fujitsu Forum. Mer om det får ni höra i nästa inlägg!