May 29
David VoglHusqvarna Group, TraineeBloggen
No Comments
Have you ever perceived how you make decisions every day? We all constantly record and evaluate information, both consciously and unconsciously, and try to figure out the best choice for reaching short- and longtime goals. This applies to your leisure time activities, your choice of food, what tasks you concentrate on in work, and also what you buy. What has this to do with my work as a global marketing trainee in one of the biggest forest- and garden companies in the world? Let me take you on my customer journey.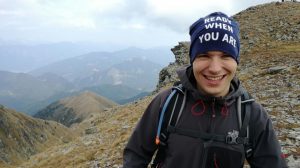 David Vogl, here on a non-customer related journey
The customer journey
For us as a manufacturer, it is crucial that we can reach the customer during their decision process. Very often, it's not only about the product itself, but a lot of times you have many more factors like brand reputation, emotion or former experience with a brand as a decision criteria.
A good model for describing the basic relationship steps between a customer and a brand is the conversion funnel, that the following graph illustrates.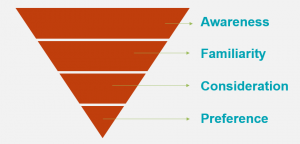 It begins with the overall awareness of a brand. Does the customer even recognize a brand? The next steps show, if a customer knows more than the name of a brand (Familiarity), if they would consider it for purchase (Consideration), and finally if they would prefer the brand over another when choosing a product for a need. Of course, from the top you lose potential customers since not everybody that is aware of the brand will finally purchase the product of this brand.
You can imagine, that you perform better if you lose as few potential customers as possible during the journey.
Building the basics
Of course, given the market you cannot focus on all steps equally. My first assignment is a good example of awareness building.
During this rotation, I was working amongst other projects on the market introduction of our brand in the UK from a global brand management perspective. Pretty few people know GARDENA on the rainy island. Hence, I learned a lot about building a customer base.
What makes us stick out compared to other customers? Which channels have the biggest impact? What is the best time for penetrating the market? How can we provide assets with the deducted messages from market research?
A lot of question marks, and a lot of step by step actions characterized this important part of my first half year.
Improving a growing market
Currently, in my second assignment I am working in Sweden. Here, the brand is already much more established, but still a lot of potential for growing. Once you have a certain level of awareness, it makes sense to more concentrate on activities further down the funnel. What can you do for a person considering or preferring your brand and product over others?
For this purpose, I am working on optimizing our point of sales performance. At the point of sales, the customer actively decides between the brands he considers for his actual purchase, so it is crucial to perform well there. Therefore, I define main stores and improve activities for a high impact in actual sales. This applies for physical stores as well as online.
Daily work
Of course, I am not only working on strategic topics. There are also a lot of hands-on tasks that help understand the different facets and needs in the departments. Below, I am depicted with my Swedish colleagues at our Husqvarna Group annual shareholder meeting, where I prepared the GARDENA division's participation.
 More to learn
What I also enjoy a lot is, that I can develop more besides work tasks. I get room for developing other skills like lean management techniques or project management.
For my daily work, the most important take away from those trainings is the concept of continuous improvement. The idea is to constantly question and improve current situations, and to standardize them for establishing better habits. In my opinion, this applies for a lot of work- and non-work related situations in life.