Dec 12
Stefan KesslerHusqvarna Group, TraineeBloggen
Comments Off on Being a Global Trainee at Husqvarna Group
Hi readers!
It is time to give you an update of my trainee journey so far. Let me tell you what has happened since my last post in February.
Doing E-Commerce in the UK
Straight after my time in the E-Commerce team at GARDENA in Germany, I went to the UK for my second assignment, working for the Flymo sales team. Besides our core brands Husqvarna & GARDENA, our Group also has strong additional brands as Flymo in its portfolio. Flymo, which is mainly active in the UK, has not only invented the first ever hover mower, it is also arguably UK's best-known lawn care brand!
During my stay there, I mainly worked on the set-up & launch of a direct-to-consumer business for the UK market. I was involved in all relevant functions from Supply Chain & Logistics to Sales, Marketing and even Customer Service, which was overall a great opportunity. Besides working on the project, I supported the marketing team in some promo and trade show events and even helped out as a photo model! If you live in the UK & want to buy fantastic Flymo products just go to www.flymo.com .
In a nutshell, I had a great time in the UK. I was part of a fantastic team and together we successfully launched a new Consumer Website.









Promo event at London Waterloo with GARDENA President Pär Aström

Say 'Cheese'
Top Management Meeting in Stockholm
This year in May I had, as one of us Global Trainees, the privilege to participate in this year's Top Management Meeting in Stockholm, where the whole Group Management was gathering for some days.
Yes, you've read it right. Being as a Global Trainee on a Top Management Meeting. You can imagine, how inspiring that event was for me. I met all the Executives from the divisions, got to know our strategy for the upcoming years and even had fruitful conversations with our CEO. I am very grateful to have had that opportunity.
Testing Zero-Turns in the US
After my assignment abroad in the UK, all trainees gathered for a training week at our US offices in Charlotte, North Carolina. There we met the whole management team, got introduced to our US operations and visited also our factory in Orangeburg. We even made time for testing thoroughly the Zero-Turn lawnmowers, which is one of the most popular lawncare products in the US. All in all it was very interesting to see how different the US market is in some respects to the European.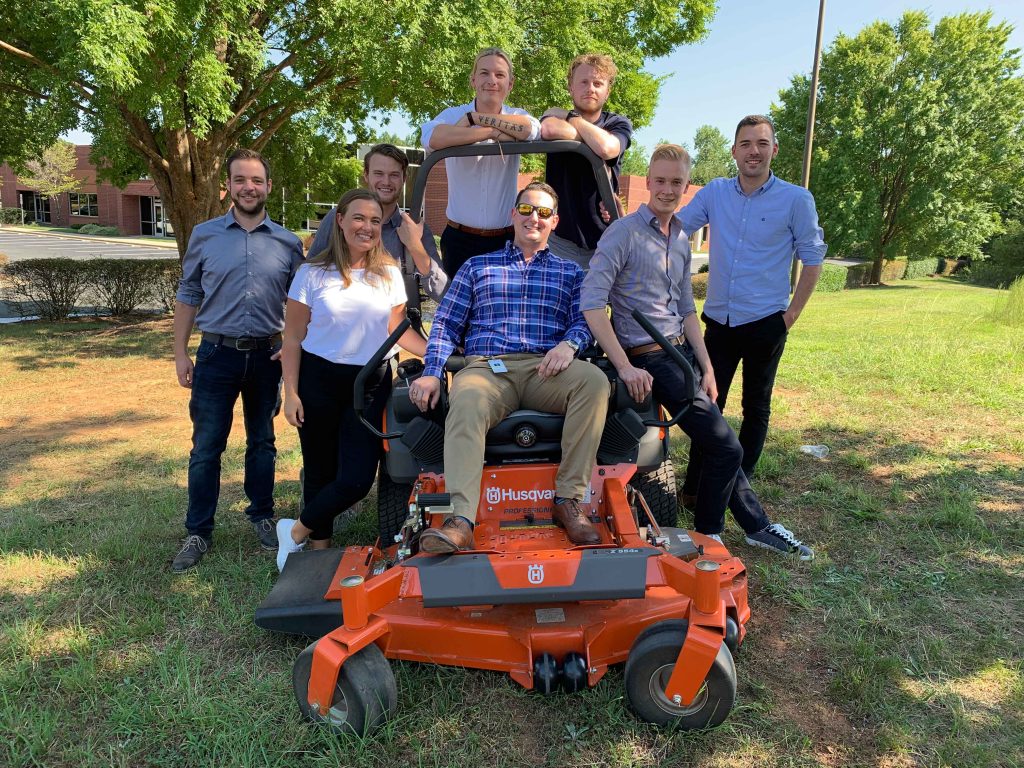 After the training I went back to Germany, starting my third assignment in the Digital Marketing team of the GARDENA division. The team is leading globally our digital marketing initiatives and engages with our customers in the online environment. I'll keep you updated on that!
If you are interested in the Global Trainee Program and consider joining Husqvarna Group, check out http://trainee.husqvarnagroup.socialmediabranding.se/. We are already looking for a new generation of pioneers, starting in September 2020!
All the best
Stefan
Comments Off on Being a Global Trainee at Husqvarna Group

#Husqvarnagroup, Husqvarna