Jan 08
Josephine HedmanSwedavia, TraineeBloggen
No Comments
Hej hej!
Jag heter Josephine Hedman och är en av årets fyra traineer på Swedavia. Som rubriken lyder har ungefär en fjärdedel av min tid som trainee på Swedavia passerat och jag tänkte med detta inlägg berätta om mina projekt samt allmänt om traineeprogrammet. Som Elias skrev i sitt inlägg i november (klicka här för att läsa det) har vi traineer olika inriktningar och jag har förmånen att tillhöra koncernenheten Security and Safety. På min enhet jobbar vi med frågor som berör olyckor, tillbud, terrorism och hot. Dessutom jobbar vi med informationssäkerhet samt risk- och krishantering.
En av de bästa delarna med att vara trainee på Swedavia är att du får möjlighet att arbeta i projekt inom väldigt spridda områden – vilket är något jag redan under mina första månader har fått prova på. Dels har jag och min traineekollega William, medverkat i ett projekt för vår innovationsavdelning och "benchmarkat" Swedavia mot andra ledande flygplatser i världen inom innovation och digitalisering. Vidare har jag varit delaktig i ett projekt som Nationellt Test och Kontroll Center (NTKC) utfört på Luleå Airport med syfte att undersöka lösningar för att möta nya regelkrav från EU gällande röntgenmaskiner. Förutom dessa två projekt som slutfördes precis innan jul har jag två mindre projekt som rullar på under hela traineeåret. Dessa faller in under min avdelning Security and Safety. Det ena projektet handlar om att uppdatera kontinuitetsplanen för säkerhetskontrollen, eller "plan b om allt skiter sig" som en av mina kollegor så välvårdat uttrycker det. Det andra projektet handlar om informationssäkerhet och klassificering av våra system utifrån tre perspektiv: sekretess, riktighet och tillgänglighet. Förutom dessa två pågående projekt kommer vi nu till våren att starta upp två projekt med säkerhetsavdelningen på Arlanda – vilket jag verkligen ser fram emot. Båda projekten berör säkerhetskontrollen. Det ena handlar om logistik och förbättring av flöden och det andra är ett test som ska utföras vid säkerhetskontrollen.
Utöver att jobba i projekt består traineeprogrammet av mycket nätverkande och även studiebesök ute på våra flygplatser. Senast i början av december besökte vi Elias, traineekollegan i Göteborg. Under besöket fick vi bland annat träffa flygplatsdirektören på Landvetter, gå en ordentlig rundtur i terminalen samt besöka flygplatsens brandstation. Nedan ser ni några bilder från vår dag på Landvetter.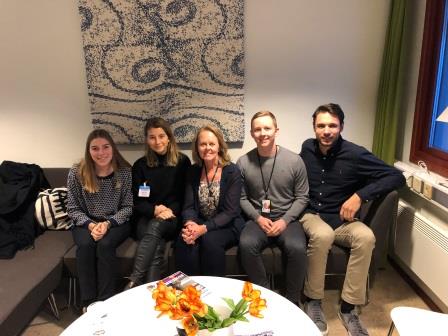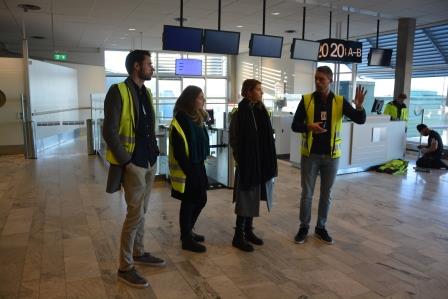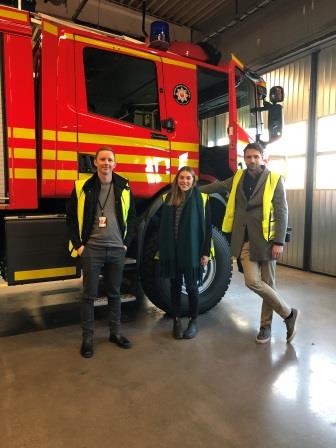 Med dessa bilder säger jag tack för mig!