Sep 09
Husqvarna Group TraineeHusqvarna Group
No Comments
My dearest reader, it's been ages. How have you been? I hope that you have enjoyed the summer and are back on track making the world a better place.
What about me? Past half a year was absolutely fantastic! Being a global trainee for Husqvarna Group has plenty of perks. Among them is an opportunity to get an international rotation at one of the Group's locations worldwide. That, and some insight from my previous assignment, brought me to Ulm, Germany. Here, I joined the product management team of the Gardena Division.
So, if you are already done googling 'Ulm', try to picture me wearing Lederhosen, holding a Biermaß, listening to Schlager music, while trying out some cheesy German one-liners to break the ice with the locals. That would give you a pretty good image of what a typical Frühlingsfest/Schützen/Vatertag/Samstag looks like around here. But there is much more to Swabia then just beer and difficult dialect. It's a place of astonishing nature, many historical landmarks and very frank and accurate people that are a phenomenon on their own. But let me stop right here. As the title suggest, this post is about my assignment.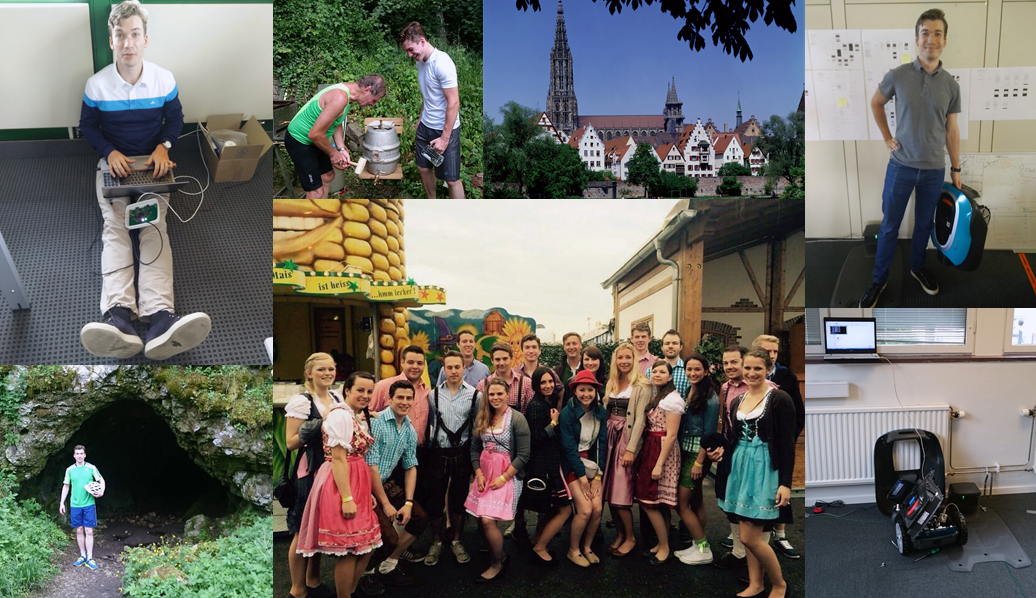 I joined Ulm's product management in February. I was to participate in the development of a conceptually new product range for Gardena that will hit the shelves in 2016. Even though eventually you will know it by a different name, let me refer to it as 'smart garden' – a rather self-explanatory and incredibly enduring name that naturally caught on within the team.
If you are following the current trends in the Internet of Things (IoT), it will not catch you by surprise that the market of home automation is rapidly growing (20 to 25%, by different estimates). And it's growing side-by-side with garden automation. This creates an exceptional opportunity for Gardena – to deliver a system with a unique combination of automatic watering, robotic lawn mowing and, most importantly, intelligence that would reflect company's expertise in the area of plant care. It is also a challenge, as the above sums up the expectations placed upon the project, making it, by all means, one of the boldest and most innovative initiatives in the group.
Fortunately, I knew about smart garden much earlier. The colleagues, with whom I worked during my first assignment, have brought me into discussion about the IoT platform that should provide means of connectivity for smart devices and introduced me to a team of developers that were just starting outlining the architecture for the system. That gave me a valuable heads-up and allowed me to arrive to Ulm well prepared.
My role within the project has changed several times. I've started by taking responsibility for updating the business case, costs calculations and participating in supplier selection. Later, I assumed more technical role to support the integration of system components between the development cycles. And eventually, I went back to the roots as a software developer for a product identity registry and manufacturing support system.
Professionally, the time spent in Ulm has been extremely rewarding. I had an opportunity to participate in the product development process from several perspectives that either allowed me to utilize my skill to the fullest or were completely new to me, and demanded to catch up quickly. I was fortunate to receive a chance to work side by side with brilliant managers in product development and real visionaries in the area of IoT, to whom I'm sincerely grateful for all the guidance and support.
It felt great to be back to Baden-Württemberg, a part of Germany, to which I feel strong connection since my exchange semester in Mannheim. However, the next assignment already awaits. At the end of September, right after a week of training at our U.S. headquarters in Charlotte, I will start working for Online Excellence initiative at Brands and Marketing organization in Sweden – yet another exciting challenge in the journey of Global Trainee.
More updates are coming.
Peace!
Andriy Shyshka
Global Trainee
Digital Solutions and Services
Older blog post by Andriy