Jan 20
Husqvarna Group TraineeHusqvarna Group
1 Comment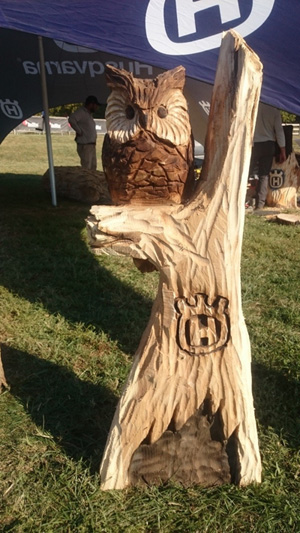 One big part of the outdoor power equipment industry is tradeshows. Tradeshows allow dealers and end-customers to meet with representatives from different brands to see and try the latest products. I have taken part in three tradeshows so far, one in India and two in the US and it is always a great experience. The best part is that you get to meet with so many different people in a short period of time plus that it is interesting to see how different companies try attract customers to their booths.
This year at the Green Industry & Equipment Expo in Louisville, Kentucky Husqvarna had a chainsaw carver who did carvings in Husqvarna's outdoor booth. It was quite interesting to see the process because when the carver started it was literally just a piece of log that was standing up right. But then he started to remove wood with his Husqvarna chainsaw and once he was finished with the cutting he also painted the carving so that he could add more details to the piece. Another company had brought a WW2 tank to their area, so it is not always that the main attraction is directly linked to the company but it can be exciting nonetheless.
The best part of the GIE tradeshow is that more or less all brands are represented and after working with Husqvarna for one and a half year I have become somewhat of an outdoor power equipment nerd. When I started I had a vague idea of what type of products are used but it was never a big interest of mine. But today, I cannot walk past a green space crew without noting what brands and equipment they are using as well as how they are using the products. When I was on vacation earlier this year on a very nice island in Malaysia I heard the familiar sound of a 2-stroke engine so of course I had to walk away from my spot on the beach to investigate, something that I would never had done two years ago!
Further, depending on the main focus of the tradeshow and where it is conducted one will get very different experiences. For example, the one that I visited in India focused on both outdoor power equipment for forestry and green space, but there were also many companies that were targeting farmers in India. Since farming is mostly done in a small scale in India I got to see a lot of equipment that reflected on that and there were a lot of smaller wheeled products and handheld equipment instead of the large tractors that you would find in Europe.
Finally, since my last blog post I have returned home to Sweden after finishing my assignment abroad in the US. So now I will get to work with R&D and Product Quality in Sweden as my last assignment. It really is amazing how much I have been able to do since joining Husqvarna, I have worked with different departments in different countries and it feels like I have learned and experienced something new every day. So if you want to continue to learn new things every day I highly recommend you to apply to Husqvarna's trainee program!

Alexander Fornell
Global Trainee
Product Management & Development