Jan 09
Husqvarna Group TraineeHusqvarna Group
No Comments
My name is Andy Grayson and I am currently a Global Sales Trainee working for Husqvarna Group in Charlotte, USA. I have been with the company for about a year and a half and have gained a lot of valuable knowledge and experience.
The Global Trainee Program is a very interesting and unique concept. There are very few companies that will hire kids fresh out of college and put them through such a rigorous process. I graduated in May of 2013 with a degree in Business Management out of a small school in South Georgia, USA. The experiences I have had and the duties I have been given are far outside of the realm of what any normal entry level management job would be.
There have been months when one week I am running our chainsaws out in the forest of North Carolina, USA, the next week I am attending presentations by the head of Project Management in our office in Ulm, Germany, and then the following week I am participating in strategic discussions with some of the best marketing professionals in the industry here in Charlotte. Being able to work for a multinational company with such a rich heritage has opened many doors for me in both my professional and personal life.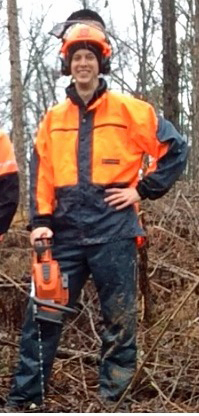 One of my favorite aspects of the program is how it allows trainees to build a network with strong relationships and lasting friendships. I have worked with some of the best in the business and forged friendships that I can call on when needed. Also, the Husqvarna Group's Global Trainee Program spans across different countries all over the globe. We tend to lean on each other during projects to maintain a global perspective when we present our findings.
At the end of the day, I am extremely thankful to work for a company as sustainable and progressive as Husqvarna Group. Seeing as how our company is 325 years old, I feel that I can confidently say my coworkers are the best at what they do and have been for a while now.
Andy Grayson
Global Trainee
Dealer Sales Channel
Charlotte, USA