Oct 10
Maja StormHusqvarna Group
No Comments
Hello there!
My name is Maja and I am a trainee within HR. Working as an HR-trainee at Husqvarna is truly an experience. I finished my second assignment in our finance team in September and I just moved to the US for 6 months – do I have to say I'm excited?? 🙂
The trainee program and the tasks have been a true experience so far. Coming to the finance department with an HR background was challenging to say the least. But with the challenge came a lot of learnings. If I'd guess about my future I wouldn't be surprised if this was the most important rotation in my trainee program.
One thing that cannot be overstated is the value of the network you get as a trainee. First of all you get the opportunity to work in multiple divisions in multiple countries. In addition to that you have your trainee group which consists of people from all over the world and who are spread out over all different divisions and countries within the company. After the trainee program you are most likely one of very few people who can honestly say that you know what's really going on in the company 😉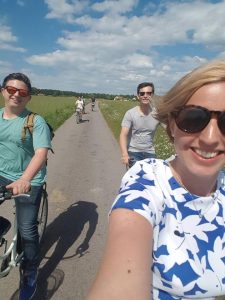 So the question your probably still asking yourself… How is it to live and work in Huskvarna, a tiny village outside of Jönköping?
When I first moved to Jönköping I was blown away of how beautiful the city is. It's literally on the beach of Vättern. I moved here from Gothenburg and I had never been to the area before. If you come from a bigger city, I can totally understand that you might be a bit hesitant to moving to a smaller city…But let me just say, – you won't regret it. Jönköping is a really nice city, with a broad selection of bars, restaurants and cafés. It's also very close to the nature (the views of Vättern is breathtaking) and has many sites to explore in the nearby area.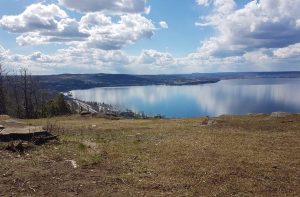 So to sum up. The absolute best thing of the trainee program is all the amazing people you will meet. Husqvarna is a very international company so prepare yourself to meet new friends from all over the world. There is always something going on, after works, events and other activities to join every weekend.
All the best,
Maja