Nov 22
Johanna TaflinLantmännen
No Comments
Hello blog!
Johanna here to tell you all about my first project as a trainee at Lantmännen. I have now been working at Corporate Communications & Branding at the Stockholm headquarters where I have been well welcomed to the team. It has been a great start for me, working with the cultivation concept within Lantmännen!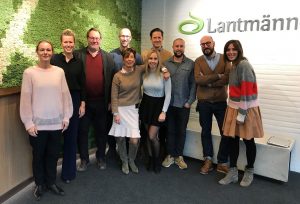 Here's me and my team at Corporate Communications & Branding
So, what is a cultivation concept? Lantmännen's cultivation concept is a way of farming in a more sustainable way compared to the conventional way of farming. The farming concept aims at reducing greenhouse gas emissions but also to increase biodiversity. This is done by establishing a number of criteria that the farmer should farm according to in exchange for a reimbursement. An example of these criteria is the implementation of skylark plots, undrilled patches in fields where larks can land and find food. Another example is to use sensors to be more precise when farming and spreading fertilizer. As of today, you can see the result of the cultivation concept in stores as Kungsörnens "Vänligare Vete" (A friendlier wheat) and "Vänligare Råg" (A friendlier rye). So if you want to eat in an even more sustainable way and support Swedish farmers at the same time, you know where to find your flour 😉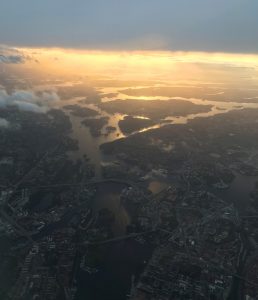 I flied to Malmö every now and then with this project and saw some great sunsets on my way home!
My task has been to try to decrease the complexity with the farming concept in-house and at the same time make it more unified and easier to understand for all actors in the value chain. During the project I have learned a lot about how to farm, which is a whole world of its own. So much to learn still!
By the way, did you know that a large part of greenhouse emissions that can be traced to a bag of flour in the store, comes from the cultivation stage? I sure didn't know. I would have guessed at transport or packing, but hey that's just me! This is why Lantmännen is working with various initiatives and projects, to make farming even more sustainable – among them the cultivation concept "Climate & Nature" that has been the focus of my past trainee period. This is actually one of the many fun things with this project, that I get to learn a lot about sustainability within farming and all the solutions there are to tackle the challenges. During these months, I have realised how innovative Lantmännen is as a company as they are constantly investigating what can be done and trying to push these new innovations to the field through the farming concept.
Another thing that I really enjoyed with my project is that I got to meet many people with different roles within Lantmännen. This has led to me getting a great start here and getting to know several new colleagues.
Our first projects are soon coming to an end and as of the beginning of December you will find me at our office in Malmö, working with profitability in fixed priced feed sales. It will be a lot more falafel and excel then, looking forward to it!
Until next time!