Apr 15
Husqvarna Group TraineeHusqvarna Group
1 Comment
I'm finally back home again after a great training module in China, which included presentations, soft skills training, factory tours, nice dinners, etc etc. But before I left for China I made sure to enjoy my final weeks in Japan, which were just as good as the first ones. I visited a lot of suppliers but of course I also took the chance to discover more of what Japan has to offer outside work, which turned out to be a lot. Sumo wrestling, theme restaurants (robots and Alcatraz), the world's biggest fish market, karaoke, hot springs, mountain hiking or cherry blossom photographing were just some of the activities I spent my weekends on. Like many people have discovered before me, spring time in Japan surely is something special and I was lucky enough to spot a lot of plum trees and early cherry blossom trees in full bloom before I left.
Back home, I have just finished my second week on my new assignment in Brands & Marketing. This reminds me of my first assignment as a trainee, everything (well, most things) is new and sometimes I don't fully grasp what people are talking about in the meetings. But I feel that I'm gradually picking up the marketing language and all its TLA's (three-letter acronyms) and it sure is a very interesting area, especially since I come from Sourcing and haven't had very much to do with this department before. So even if it's a little difficult now in the beginning, I feel very excited about this assignment, which will be my last in the trainee program.
Speaking of which, since we will have a new batch of trainees joining Husqvarna Group in August and hopefully some of you might be reading this, I would like to take this opportunity to give you some tips that I think has given me a good trainee experience so far:
Say yes to everything – well, obviously with some limitations and of course your schedule must allow it, but the best way to learn things is to practice them so take every opportunity you get to involve yourself in new tasks. If you stay curious and are eager to learn, the trainee rotations will be so much more valuable.
Speak up – dare to ask when there is something you don't understand, no one expects you to know a lot in the beginning. Also don't be afraid to speak your opinion and question things if you don't agree.
Reach out to your colleagues and offer them your help – if you have some time over or a colleague is having a problem with something, ask if you can help them! Most people appreciate some support and the next time it might be you who need help. For me, it felt especially good during my first assignment when I could start to help people since I spent most of my first weeks (or let's be honest, months) asking for help myself.
Ask for feedback – through the trainee program you will have planned feedback sessions but I would recommend you to try to ask for feedback even outside these sessions. My experience is that most people find it hard to give constructive criticism, but I think that this kind of feedback is very important for personal development. After you have finished a big task or a project, ask the people involved if they think you could have done anything differently and make sure to remember the feedback for your next project.
Learn how to utilize your network – one of the biggest benefits of being a trainee is undoubtedly the extensive network the rotations and training modules will give you. Knowing how to use this efficiently may help you in getting quick support or valuable input for your work tasks.
Take initiatives – this probably goes without saying but I'll put it on my list anyway.
Have fun and socialize – very important! Work isn't just about isolating yourself in front of an Excel sheet 40 hours a week, it gives you so much more energy and inspiration if you can chat and laugh with your colleagues over a coffee now and then. By interacting and having fun, you are also keeping your network alive and it might very well lead to some new good ideas or insights for your current project.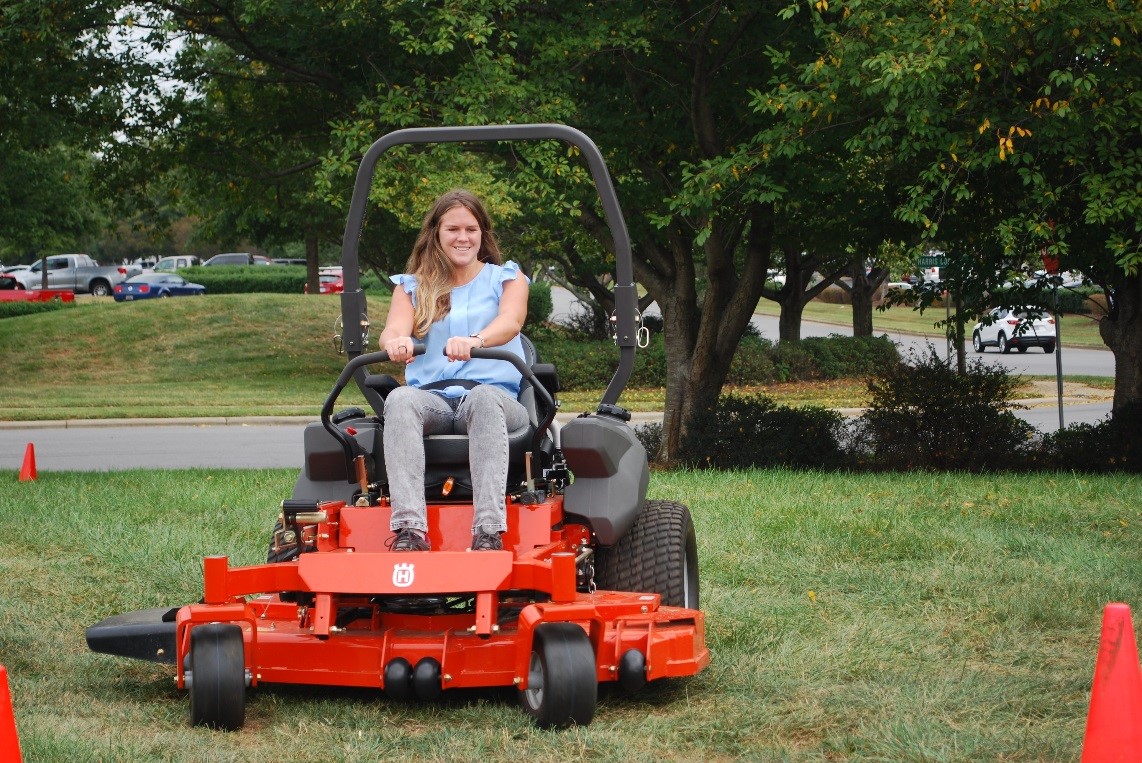 Zero-turn mower testing – typical trainee activity
Finally I want to finish by wishing all potential new trainees good luck in the final stage of the recruitment process and I very much look forward to see you after the summer!
Lisa Barrehag
Global Trainee
Husqvarna Group