Jan 22
Husqvarna Group TraineeHusqvarna Group
3 Comments
My name is Ulrike Nagel and I joined the Husqvarna Group's first Global Trainee Program in September 2013 and have just finished my third, six-month rotation.
I'm German, and I spent my first six months at the regional marketing department in France. After that, I went to Charlotte, USA, were I worked in the product management and development team for Zero-turn mowers. After these first two assignments, I realized how valuable it is to be sent out to different sales organizations.
Working for managers in different areas in the organization was an absolute amazing experience; and I was – and still am – able to observe processes from an outside-in perspective and can compare working procedures in different countries.
I just finished my last assignment at the regional sales and service department in Huskvarna, Sweden. It has really been an amazing experience because I got the possibility to be part of the project lead for the implementation of Husqvarna Group's first concept store, located in Stockholm.
The project was highly confidential and everyone involved, internal and external, had to sign a non-disclosure-agreement. I steered the project together with a consultant and we both agreed that our goal was to make this concept store a worldwide benchmark for all our 26.000 highly treasured dealers. At the same time, the store should also be an internal competence center to support Husqvarna Group becoming an even better business partner for the dealers.
Husqvarna Group has never had such a project before, so it was a necessity for all departments involved to start from scratch with their respective areas of responsibility. It was truly a cross-functional team effort with people from several departments, such as legal, controlling, IT, sales, marketing and HR. I'm still overwhelmed by the immense, indescribable learning curve I had over these past six months in Sweden – and I'm truly thankful for being provided with the chance to take on such a huge responsibility.
The concept store consists of an exhibition area, a service workshop, conference rooms and offices. Together with external suppliers we created a plan of the store. What was absolutely great was that I could literally see how my suggestions were taken into account. Most of it, I could see a few weeks after the plans turned into reality. For example, the design of the store was changed so that one of the Group's greatest current successes, the automatic lawn mower, was put more into focus, together with the Gardena irrigation systems. The irrigation is connected to real-water and at the opening day, it was just an incredible feeling to hear from visitors that they liked it.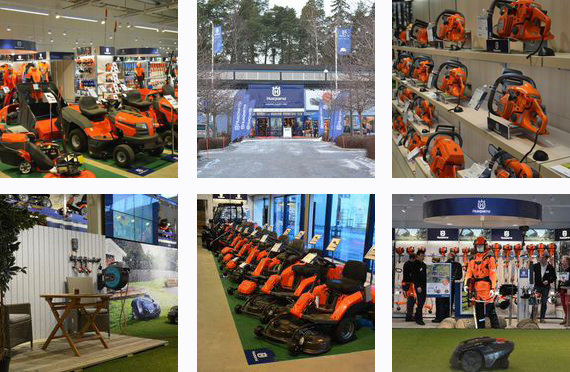 During the project, I also got the chance to work with many external suppliers, like the company creating the store's IT system, a partner that implemented a queuing system and screens in the store, lightening specialists, a manufacturer of store- and service equipment, a designer, marketing agencies and recruitment specialists. A truly great experience.
In general, I'm sure you realize how amazing it was for me to be part of it all. I loved absorbing all the procedures. I believe that the openness to learn and to adapt is one of the most important skills for us in this ever-changing globalized environment we are all working in.
I'm very proud to work for Husqvarna Group, a multinational group that is changing and adapting to always suit our customer's the best way possible. This has just been shown with the implementation of this fantastic concept store. I hope you will all go there when you are in Stockholm or visit the website http://husqvarnaconceptstore.se/. You can also find the store on Facebook under Husqvarna Concept Store.
Let's look forward to an amazing future with companies and employees willing to think outside the box, as this is key to success.
Ulrike Nagel
Global Trainee
Sales Department
France